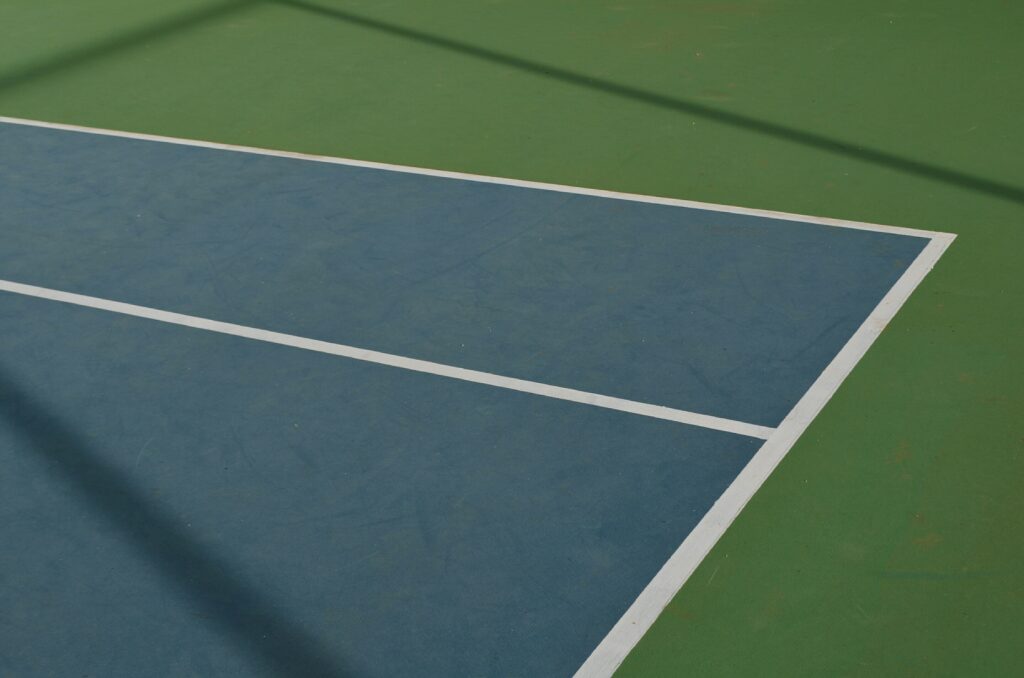 Yes. Any tennis court can easily (and temporarily) become a pickleball playing paradise. All you need is 3 metal tape measures and 1 roll of painters tape.
As a pickleball fanatic, I've actually created over 70+ temporary courts in my hometown. So, I've learned some DIY hacks to make some great courts in less time.
In this article, I'm going to teach you the easiest and fastest way to turn any tennis court into a pickleball court.
1. Gather Supplies: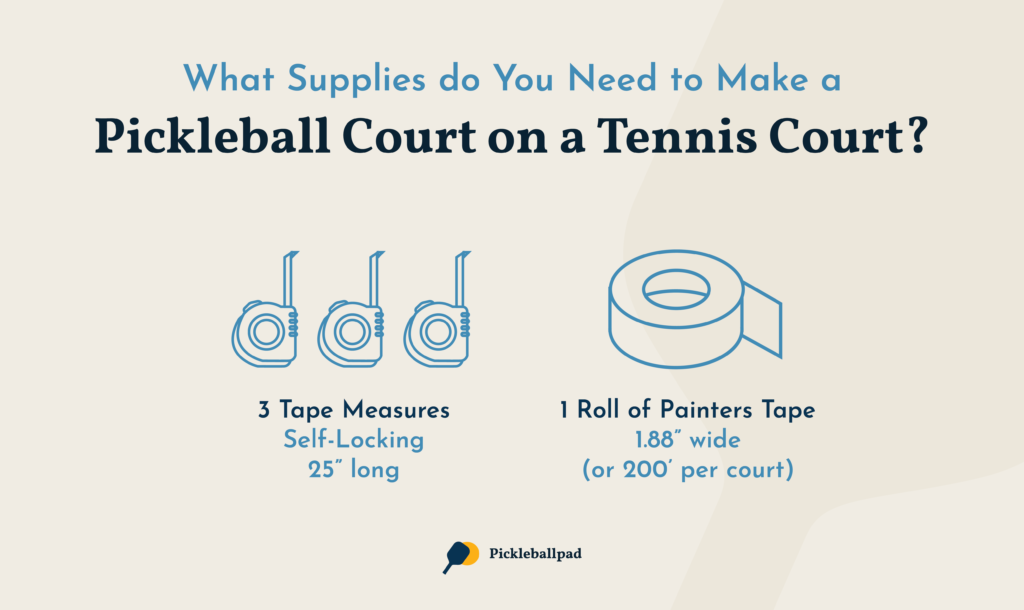 Here's a list of what you'll need:
200 ft of Painters Tape: Grab 1.88" wide tape—it's nearly the same width as tennis court paint lines.
Pro Tip: If you want your taped court to last longer than 24ish hours, then get some Textured Cloth Pickleball Court Tape instead—although I don't recommend using it on public courts since it can leave a residue.

Pro Tip: Invest in some portable nets if you plan to fit multiple pickleball courts on a single tennis court. With portable nets, you'll also need to mark the lines where your nets will go. So, make sure to grab two rolls of painters tape since you'll need an extra 50 feet (or 250 ft total) for those net-placement tape lines per court.
2. Decide Your Court Count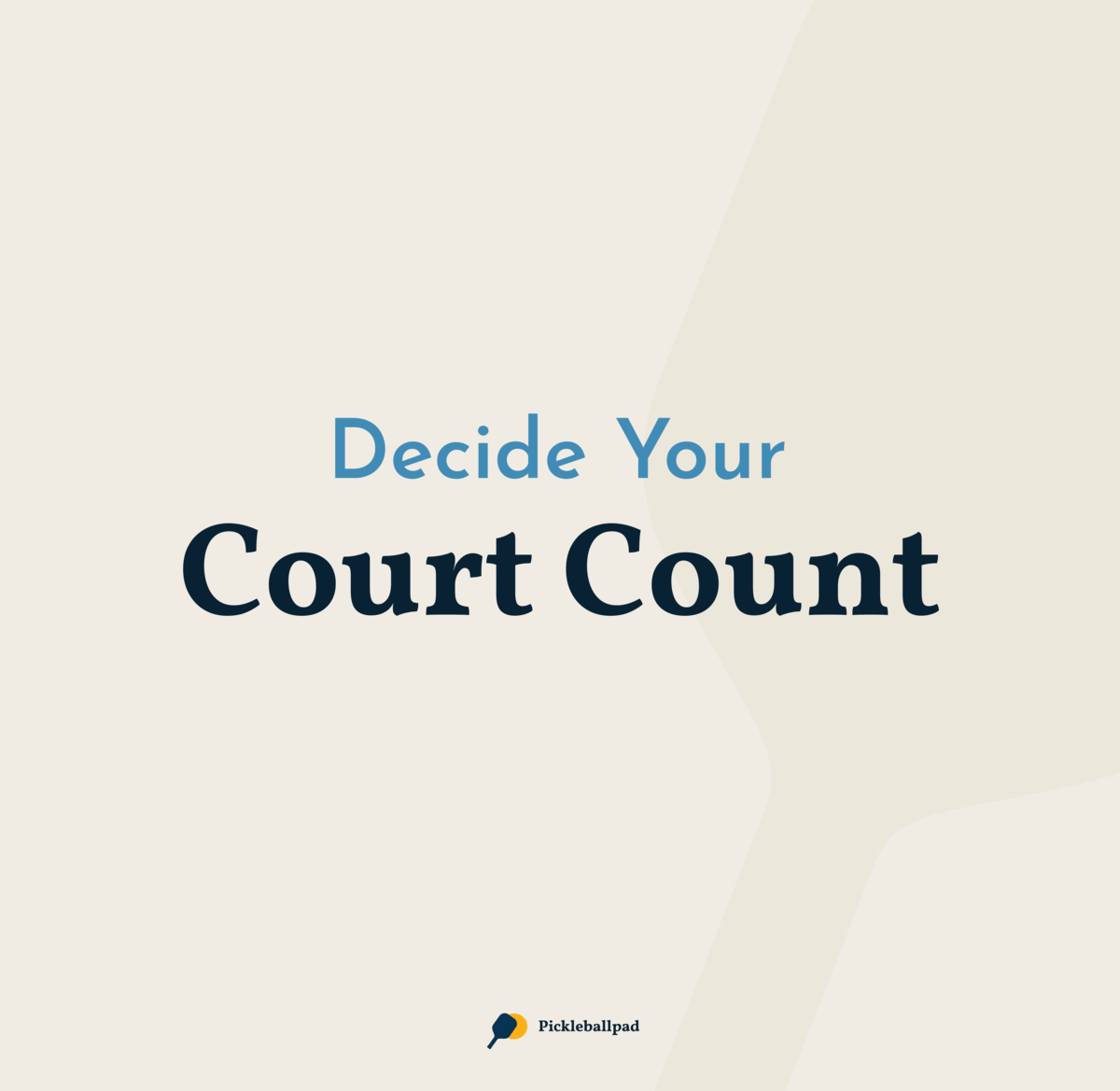 You can fit 1, 2, or even 4 pickleball courts on a single tennis court.
Taping 1 pickleball over 1 tennis court is the the easiest option for beginners. You can make use of the tennis court's net and the service box lines (more on this later).
If you need 2 or 4 courts, you'll need to BYON (Bring Your Own Nets) before you start taping up your lines.
Pro Tip: Tape your court the sun-savvy way, by facing north and south. That way, nobody will have to squint while serving.
3. Tweak the Net or Set Up Your Own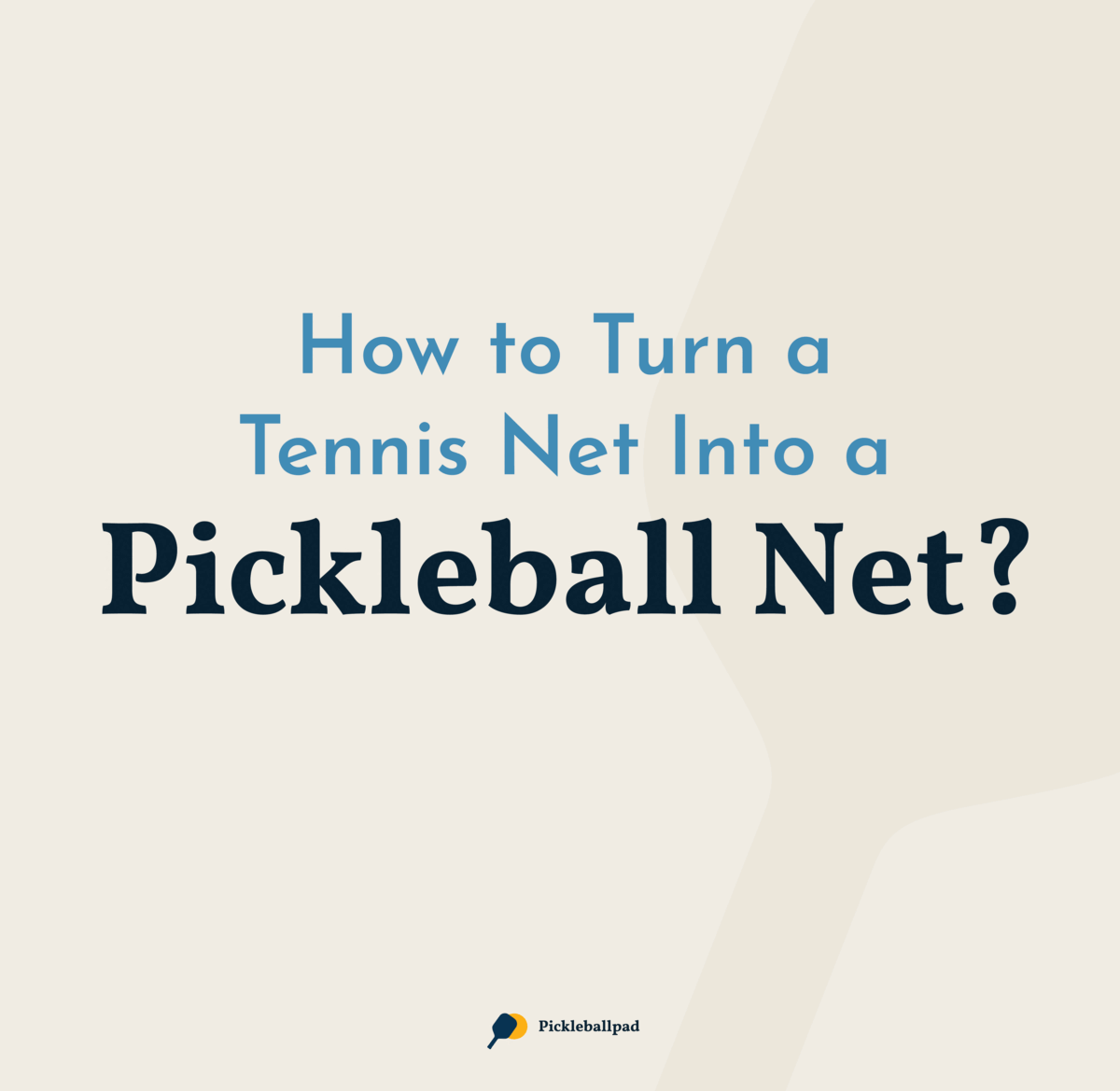 You can easily tweak a tennis net to make it work for pickleball.
Here's how:
Find the white strap right in the middle of the net, and tighten it until the net is 2 inches shorter. This will make the net 34 inches tall (instead of 36 inches), which is the perfect height for pickleball!
Remember to loosen the net (back to the original height) after your match. That's good post-game etiquette and garners goodwill from any tennis-loving onlookers.
Pro tip: if your tennis net doesn't have a center strap, you can always buy a removable center strap online.
4. Measure + Mark Your Sidelines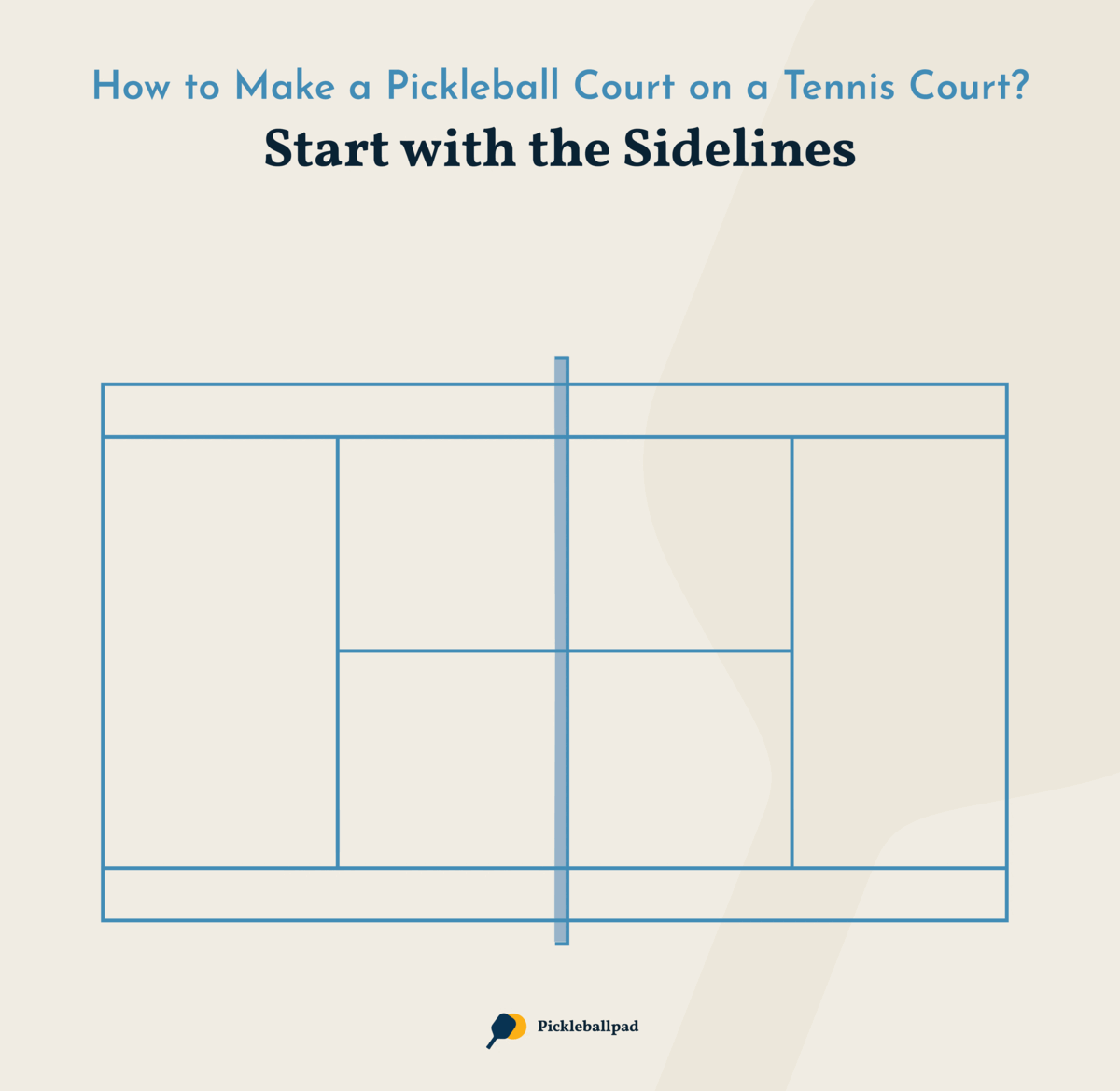 Now that you've got your net perfectly placed. It's time to measure and mark your sidelines.
A sideline in pickleball is exactly how it sounds. It's the line on one "side" of the court.
A pickleball court is 7 feet thinner then the singles court in tennis. So, our first step will help us set up one of our sidelines to match that.
Walk over to the singles lines on the tennis court. Grab your tape measurer and measure 3.5 feet away from that line—make sure you are moving into the court. Put down a small bit of tape to mark that spot.
Then, take your 1st Measuring Tape and extend it from the bottom of the net to a spot that's 22 feet away. Lock it in place.
Now, do the same exact process on the opposite side with your 2nd Measuring Tape.
5.
Measure + Mark Your Baseline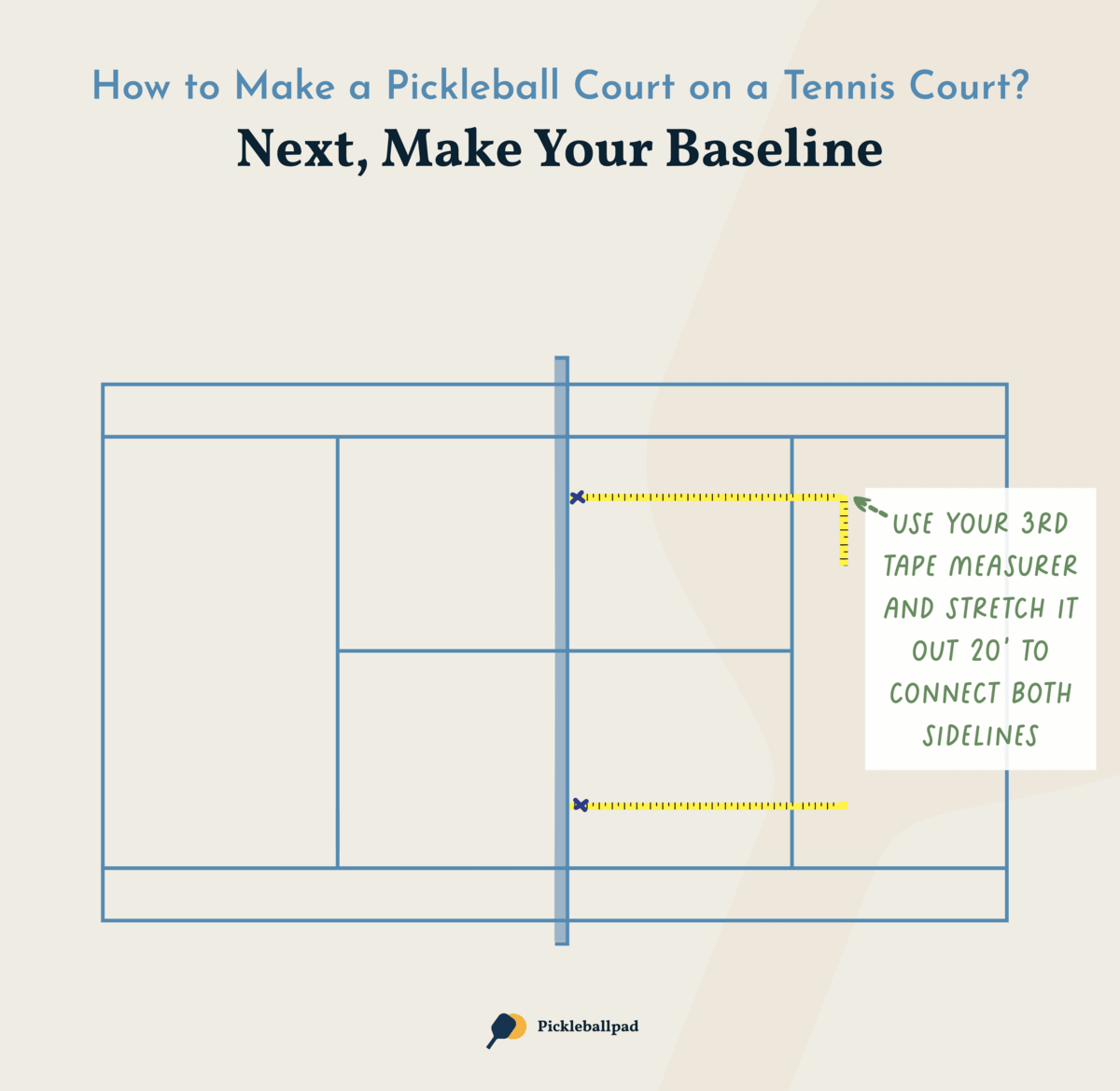 A baseline is the line that runs parallel to the net, and it covers the full width of the court at the back. It's the line that you stand behind to serve.
To make your baseline, go to the end of your 22-foot marked lines.
Then use your 3rd tape measure to measure a 20 feet perpendicular to that line.
Also, mark the halfway point at (aka 10 feet) too with an extra piece of tape — this will help you later in Step 7.
6. Measure + Mark your Kitchen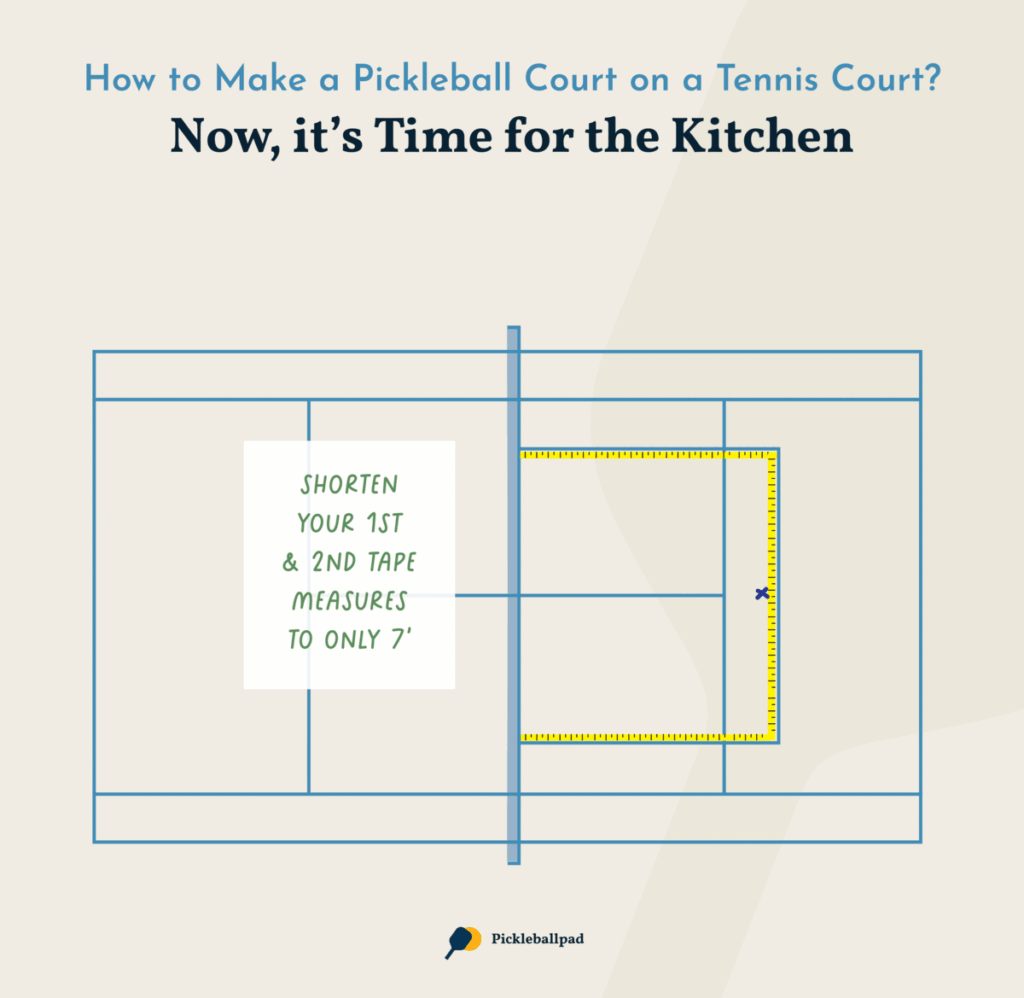 The kitchen is an area of the court that's basically the equivalent of hot-lava—don't let your feet touch cross it while you are volleying, or else it's instantly a fault.
To make a kitchen, shorten your 1st and 2nd tape measures (that you were using to mark your sidelines) and until both tape measure reaches 7 feet.
Then, drag your 3rd tape (the one that is parallel to the net) towards the shortened 7 feet measuring tapes until all three tape measures intersect at 90˚ angle.
That 90˚ angle makes sure that your lines will be straight.
Tape along the outside edge of the 3rd tape measure with painters tape to create your kitchen line.
7. Mark Your Centerline + Repeat The Whole Process Again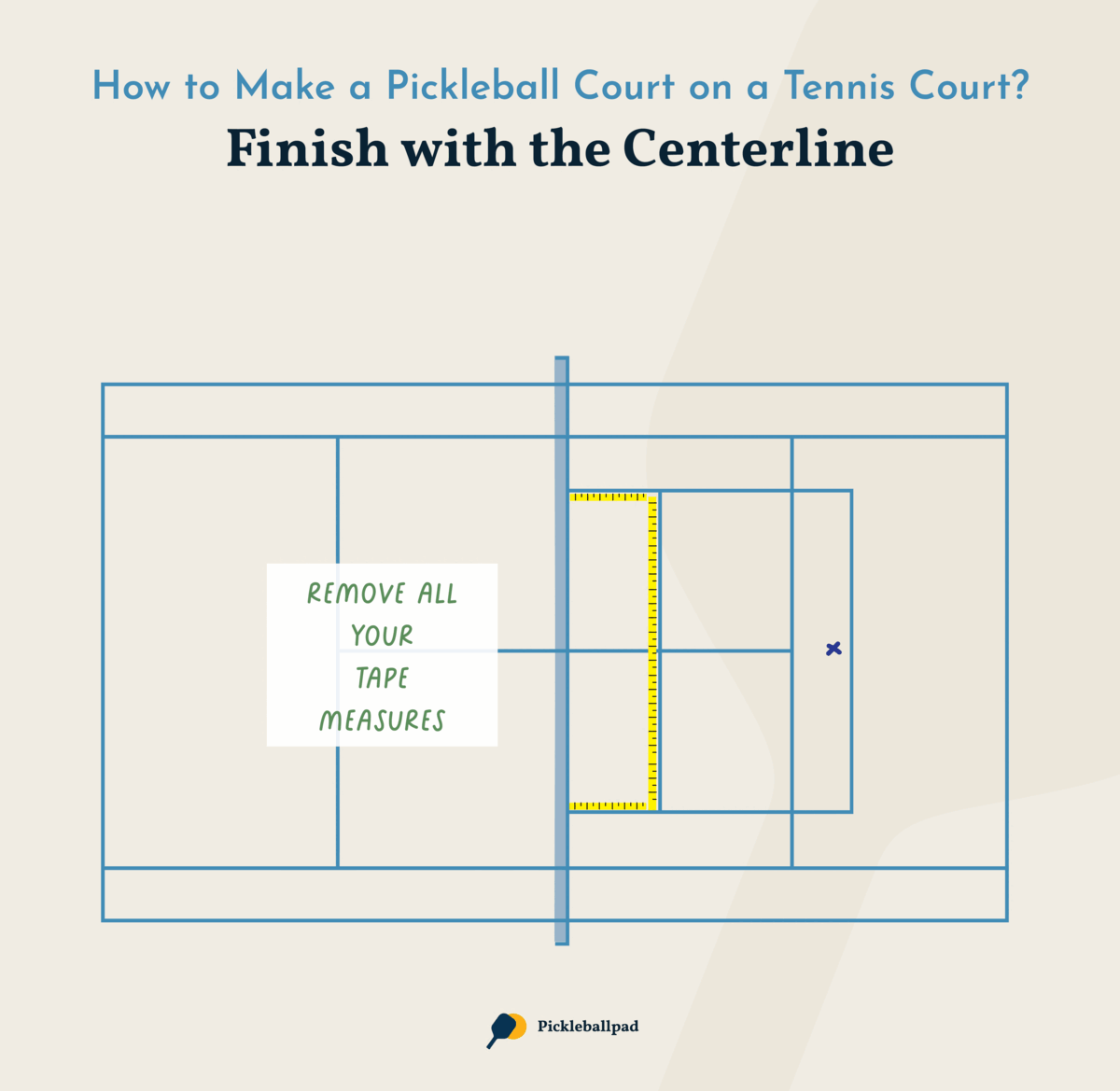 The centerline in a pickleball court divides the court into two halves. It helps you know which area is crosscourt when you serve a ball.
To make your court's centerline, remove all of your tape measures.
Then, extend the tennis court's original center-court line to the to that small halfway tape mark we made by your baseline in step 5.
Viola! You did it! You have officially finished half of a pickleball court.
Now, you just follow steps 4 – 7 again on the opposite side of the court and you'll be ready to play.
8. Play Pickleball
You did it! Congrats on making your first temporary pickleball court.
After your game, embrace the ole' National Park Guidelines and "leave no trace" of your temporary pickleball court. Peel the tape off the court and loose the center strap of the tennis net (or just pack up your portable nets instead).
Other Tips and Tricks for Pickleball Courts
Ready to learn more about DIY pickleball court lines? Here are a few more common questions.
How do you make a Pickleball Court without using painters tape?
The three most popular alternatives to painters tape for pickleball courts are: chalk, rubber/vinyl pickleball line sets and one-piece straps.

Can you use chalk on tennis courts for pickleball lines?
Chalk lines aren't strictly temporary since they tend to leave behind residue that even a good scrub or a few rainstorms might not fully wash away.
Some of your fellow tennis-playing court-sharing comrades might not be a big fan of that.
If you do use chalk, try to use a blue or green color. The red chalk dye will be the hardest to remove from a tennis court.
Can you use vinyl line sets on courts for pickleball?
Pickleball rubber/vinyl strips line sets are a more eco-friendly option then painters tape. They are reusable, weighted and a bit faster to set up then tape.
They do have a few downsides though.
The sets make line calling pretty difficult since they vinyl bands are just sections.
They also can be a touch slick if you don't get one with enough texture—no one likes to slip mid point.
If you are determined to use ruber/vinyl strips I'd recommend getting at least two sets (it makes the line spacing easier to visualize). In the past I've had fairly good luck with this Franklin Sport set but I did have to let them bake out in the sun when they arrived in the mail because they were all folded up and didn't originally lay straight.
Ready to Learn More?
Now that you've got your pickleball court set-up-skills honed in. Your ready to take your game to the next level!