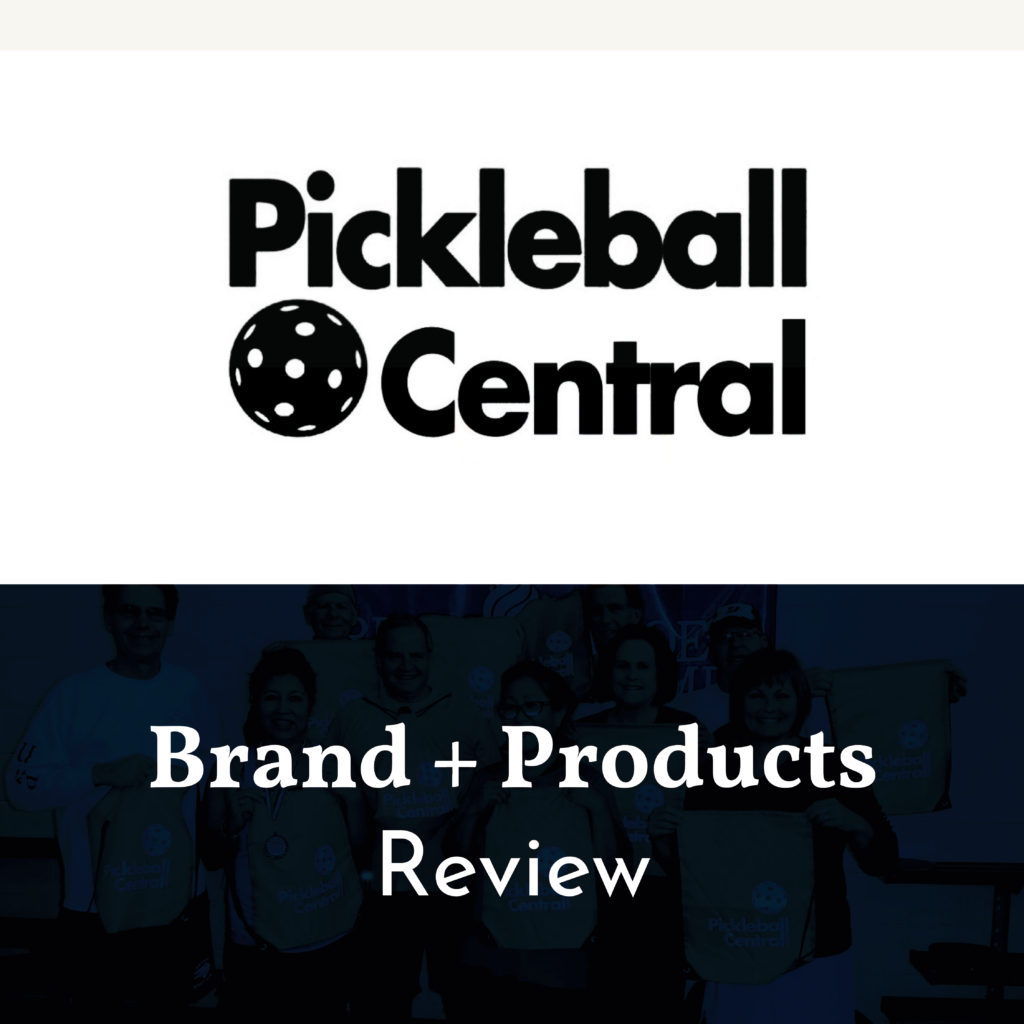 Pickleball paddles come in various shapes and are made with a variety of materials. For those getting into the game, finding the right paddle is difficult. Luckily, Rally pickleball paddles offer a range of options for everyone from beginners to seasoned pickleball players. As one of the smaller pickleball paddle brands, Rally paddles are designed with a love of the game. If you are currently looking for a new paddle, compare the paddles available from this popular brand.
What is Pickleball Central
Rally is a brand of pickleball paddles manufactured by Pickleball Central in Kent, WA. The company was established in 2006. Within a few years, they had become a major pickleball equipment reseller. The Rally paddles are their line of pickleball paddles. While they are not the largest paddle manufacturer, the people behind these paddles understand the sport. They started their business as a website dedicated to pickleball. Besides creating top-of-the-line paddles, the company also established an indoor pickleball facility. Pickleball Station includes four public indoor pickleball courts, a pro shop, tournaments, and professional lessons.
Overview of the Rally Pickleball Paddles
Pickleball Central paddles are known for quality and affordability. They are considered the best value in their respective categories, whether you want a wood, graphite, or composite paddle. Currently, the company offers four paddles:
The wood paddle and the two graphite paddles are approved for tournament play by the USAPA, but all are suitable for recreational play and players of any skill level. The wooden paddle is the most affordable option and a top choice for beginners. For those coming to pickleball from table tennis, the wood paddle may be more comfortable. The Power 2.0 and Rally NX are the two graphite paddles. Graphite faces are typically lighter compared to other materials, which puts less wear on your arm and shoulder. These faces are also stiffer and provide more texture. This gives more control to the player. The Rally Tyro 2 uses a composite face, which adds more bounce. You get more power and a slightly heavier paddle. Just keep in mind that it is not approved for tournament play, but still great for recreational games. Check out the following Rally reviews to determine which paddle is right for your pickleball game.
Rally Meister Paddle Review
Wooden Paddle
The Rally Meister is a wooden paddle and one of the most affordable options. It offers a great entry point for beginners. The main features include:
4¼ inch grip size
5¼ inch grip length
Weighs 10-ounces
15½ inches long
7 inches wide
Wood core
Screen print on satin varnish face
Pros
Pros
Low-cost pickleball paddles
Comfortable polyurethane grip
Bundles with balls available
Cons
Cons
Not the most durable option
The heavier weight can be tiring
Despite the low cost and wooden material, this is still a reliable paddle. The rounded shape and average dimensions make it versatile and suitable for all types of play styles. It also features a comfortable polyurethane grip that you rarely get on wooden paddles. Rally also offers this paddle bundled with pickleball balls. Beginners, camps, and schools can purchase these sets to further reduce the cost of getting into pickleball. Who should consider using this paddle? The Pickle Meister is best suited for beginners. The versatility makes it easier for players to pick up pickleball. The low price is also beneficial for beginners. It is always a good idea to learn more about the game before investing in a more expensive paddle.
Rally Graphite Power 2.0 Paddle Review
Our Pick
The Rally Graphite Power 2.0 Pickleball Paddle is a durable paddle intended for those that want more power with their swings. It is an updated version of their popular graphite paddle. The Power 2.0 features a redesigned polymer core measuring 1/2-inch thick. Other features include:
4¼ inch grip size
4½ inch grip length
Weighs eight ounces
15⅜ inches long
8⅛ inches wide
Polymer honeycomb core
Graphite face


Pros
Pros
Flexible polymer core delivers more power
Medium-sized grip
Lightweight design
Cons
Cons
Includes a thick edge guard
Less control for beginners
This Rally graphite pickleball paddle offers a great balance of features. The lightweight design and medium grip are comfortable while the flexible core helps send the ball flying. The core makes this paddle more responsive, which can add control and finesse when you have experience. However, if you are new to the game, these features may work against you, reducing accuracy and overall performance. In the end, the Power 2.0 is a high-quality graphite paddle with a more flexible core suited for intermediate and advanced players. Keep in mind that beginners can still start with this paddle, but it includes a steeper learning curve.
Rally NX Graphite Paddle Review
Our Pick
The Rally NX is the second graphite paddle from Pickleball Central. It shares some features with the Power 2.0 paddle, along with several notable differences. Here are its main features:
4⅛ inch grip size
5 inch grip length
Weighs 7.7-ounces
15¾ inches long
8⅛ inches wide
Nomex honeycomb core
Graphite face


Pros
Pros
Great balance of control and power
Lightweight paddle
Versatile design
Cons
Cons
Nomex honeycomb core is less responsive
The small grip may not suit bigger hands
Instead of the polymer PowerCore material used in the Power 2.0, the Rally NX has a Nomex honeycomb core. This core is less responsive, which limits the power you can deliver compared to the previous graphite paddle. However, with less power, you gain a better balance between control and power. The Rally NX is not the best option for those with larger hands, as it features a smaller grip. The grip measures 4⅛ inch, which is slightly thinner compared to the 4½ inch grip found on the other options. However, the thinner grip also makes it easier to switch hands. Overall, the Rally NX may be the best paddle from this company. While it does have a couple of minor limitations, it provides a more well-rounded playing experience compared to the Power 2.0. Unless you are a power player, you should enjoy the performance you get with the Rally NX.
Rally Tyro 2 Advanced Composite Paddle Review
The Rally Tyro 2 is the last of the options available from this company. It is another top option for beginners, due to the solid design. Here is a closer look at its features:
4 inch grip size
4⅞ inch grip length
Weighs 6.7-ounces
15⅝ inches long
7¾ inches wide
Polymer honeycomb core
Composite face
Pros
Pros
Durable polymer core
Comfortable grip
Available in a two pack
Designed by professional pickleball players
Cons
Cons
Not approved for tournament play
The core and material are quieter
The Tyro 2 includes the same ½ inch polymer core used in the updated Rally Power 2.0 paddle. The thick, responsive core enhances the sweet spot and gives you more power with each swing. It is also one of the lighter rackets, weighing just 6.7 ounces. Most people find the grip comfortable. However, it is a little thinner. It is a four-inch grip with a five-inch length. If you want stability, consider one of the paddles with thicker grips. With this paddle, you get a thinner hold, which allows for faster wrist action and hand switching. These paddles are affordable. A single paddle is typically within the $40 range. The company also sells them in sets, providing even greater value. When you purchase the two-pack or four-pack, you also get quality pickleball balls. The Tyro 2 was designed with input from professional pickleball players. It includes many of the features that they want, including a large head and great balance. There are a couple of drawbacks. This paddle is not approved for tournament play. Some people may also dislike the quieter sound offered by the composite face. John Cowley who is a professional tournament player has given his opinion about the Rally Tyre 2 Pro paddles which we found interesting and it's to the point and concise.
Conclusion – Why Choose Rally?
Rally produces high-quality paddles with designs to suit all types of players. There are Rally pickleball paddles for beginners, recreational players, and competitive players. You also get to choose from three different paddle materials. Pickleball Central is one of the few companies that produce a high-quality wood paddle. While the paddle is heavier compared to the graphite or composite option, it is durable and versatile. It has a great shape that makes getting into pickleball easier for novices. The low cost of the wood paddle also makes it perfect for community centers and organizations that want to add pickleball to their sports offerings. The composite paddle offers power and a long head. If you are a power tennis player, you may enjoy the overall shape, design, and feel of this paddle. It is also relatively affordable, making it another wonderful choice for beginners. The two graphite paddles are the top choices in this group. If you are new to pickleball, the Rally NX gives you a little more accuracy while holding back on the power. The Rally Power 2.0, as the name implies, is built for power. Whichever option you choose, you cannot go wrong. Rally is a growing brand and a top pick when comparing pickleball paddle companies.